The technology of electric stair climbers industry are constantly optimized and upgraded, as the leading supplier of overall solutions for logistics handling, XSTO continues to break the rules and innovate more functions. We launch a collapsible electric stair climbing dollies. It not only has good operation performance, but also reduces the height of the electric stair dollies to 770mm for easy carrying in narrow space.
At present, XSTO has obtained the patent certificate of utility model in China and Germany. German utility model patent is: Klappbarer Treppensteiger,Patent number: Nr.20 2020 000 047.This utility model relates to the technical field of auxiliary logistics handling equipment, aiming at the important improvement of convenient carrying. It not only provides customers with a better experience, but also improves the competitiveness of the market.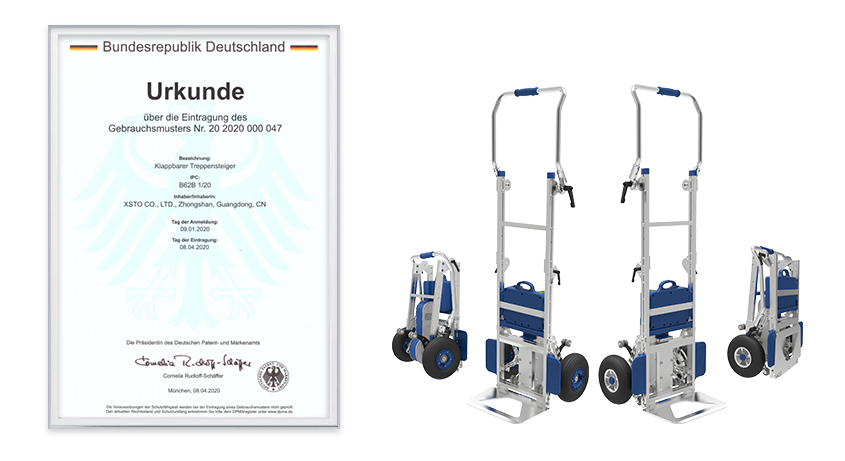 The XSTO electric stair climbers with folding function are ZW7170EF/ZW7170GF, please browse the product page of the official website for more details. The folded electric stair climber is small and light, the volume is only one third of the unfolded. It can be placed in the car trunk, car seat and so on, also can be equipped with different accessories to solve the handling problem.
Obtaining the patent certificate of German utility model will help to improve the intellectual property protection system, promote the company's technological innovation, further enhance the company's competitiveness.
XSTO keeps on developing and providing more and better products to our partners!